If you fantasise about a different video we offer, we would be happy to shoot a custom video for you, in mixed wrestling, female wrestling, boxing, female domination, male domination, biting, smashing, smothering or any erotic video categories, with the freedom of choice of models, outfits, wrestling holds and scenarios, as well as the theme and outcome. We have extremely experienced wrestlers ready to pull out the most creative wrestling holds you could suggest as long as safety allows. The only limit is your imagination! And beside of our core wrestlers, we are working together with 2 model agencies, so, either if you are a private individual or a site owner, you have the possibility to choose from a catalog of hundreds of models.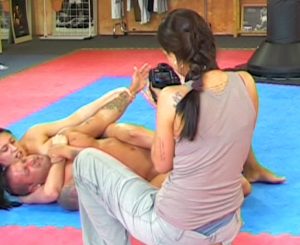 For individual customers we offer the possibility to sponsor a shooting (for the clean cost of it), and in this way we follow your script, but we reserve the right to publish the video on our site. With those videos – usually in erotic and in fantasy / maledom categories, depending on the demand – we also update the site when possible. If you wish to get exclusive rights, that is also possible, please, inquire in email.
For producers we offer our well trained and experienced wrestlers, our 20 years of experience of film production and fair prices. Please, inquire in email.
---
Sponsored Videos – with non-exclusive rights, in Euros
| | | | |
| --- | --- | --- | --- |
| bikini | 15 minutes | 30 minutes | 1 hour |
| 2 participants | E 300 | E 400 | E 600 |
| nude erotic | | | |
| 2 participants | E 500 | E 700 | E 900 |
---
Custom Videos – with exclusive rights in Euros
| | | | |
| --- | --- | --- | --- |
| bikini | 15 minutes | 30 minutes | 1 hour |
| 2 participants | E 600 | E 800 | E 900 |
| nude erotic | | | |
| 2 participants | E 900 | E 1100 | E 1200 |
---
Feedbacks
From Neil:
Again the video was done with a sense of fun and you were great as the referee. The 2 girls seemed to have fun & made a great effort probably after a long day of shooting so again a big, big thank you to them both and to you Bora for being so friendly and professional. I hope that the videos might be popular with the other visitors to your site and you can make some money on them. When I first thought of writing to you about doing some custom videos I never thought they could be made so you have been really great to have made them happen for me in such an easy and friendly manner. Neil.
From Gunter:
Dear Bora, 


Thanks for yet another amazing custom! I fully understand the difficulties in getting the right girls to do the customs: it is a minority interests and not every models, girls / guys will be suitable for it. That's why I really enjoy and appreciate working with you so much. We've done 20 customs now (!) and all have been done with amazing result. Our communication has always been smooth, fast reaction and not to mention, the very fast upload time. I'm really amazed that within a few days after the shooting you have already got the videos and photos uploaded. (some other normally take a week, even a month) Both you and the Mexican are super professional and I feel really confidence whenever I have a custom ordered. The script has always been well followed and executed, this is really one important factor that we customer aim for and I have to say not many other companies manage to keep up to your standard.
I have suggestion / feedbacks from time to time and you guys always reacted fast and make adjustment in the next custom, I am 200% satisfy with you. You guys are very trustworthy and reliable and I can foresee I will still be doing another 20 customs with you too!
It has always been a pleasure doing a custom with you and I do hope you guys feel the same too! (sorry for being a pain in the selection of costumes / moveset from time to time 😉 Gunter.
From Tom:
Yours is the best custom video company on the net, Bora! 😀 Nowadays I don't even do customs with anybody else but yourself. 🙂 Keep up the great work! Tom.